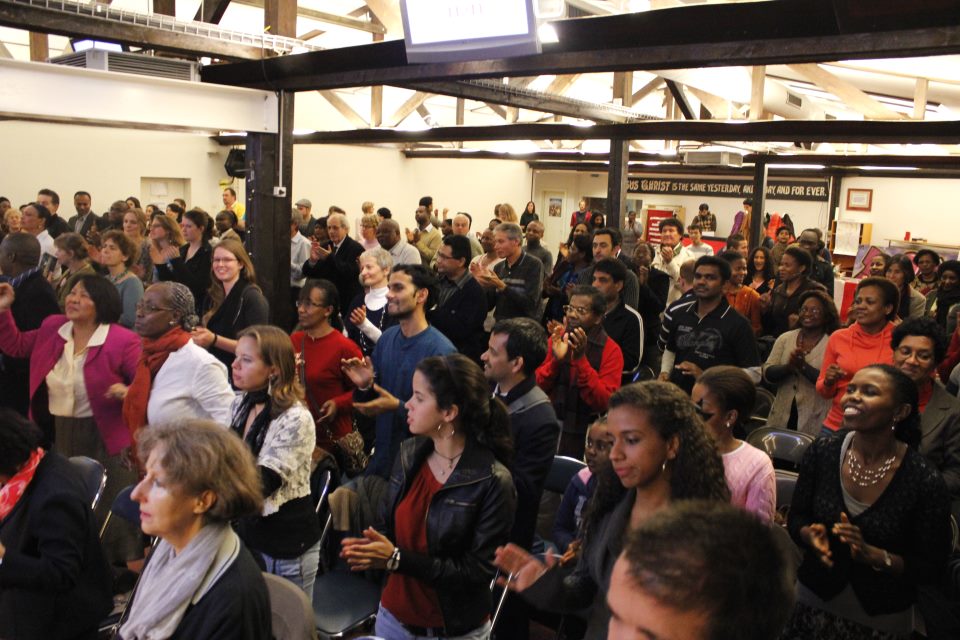 Nyon/Geneva, November 3-4, 2011 – It al started as a vision to gather the believers from Nyon and Geneva for 2 evenings of Celebration to celebrate our unity in diversity. Nations2Nations became the platform to see this happen where people from more than 40 nations gathered, old and young, Swiss and International, rich and poor worshipping Jesus together. We felt we were experiencing a little bit of heaven on earth.The passion for Jesus and unity also overflowed in young people getting out in the streets for prayer walks and evangelism.
Many doors were opened for Benny Prasad, one of our leaders from Nations2Nations, who broke the world record for having travelled to all the nations in the shortest amount of time, just over 7 years. During the week he had concerts with his unique guitar that includes a harp and two bongos, ministering to diplomats and people working for the international organizations in Geneva. His testimony of how from a useless child who was thrown out of the house to someone playing for kings and before parliaments and sharing the love of Jesus in closed countries for the Gospel touched many and gave them hope. There were a number of people in these different venues in Geneva who were from other religions and a few even came to the evening celebration on Friday night and they were visibly impacted by the love of Jesus.
In the lead up to the Nyon celebration there was such enthusiasm and unity from the Pastors to see the body of Christ coming together around the goal  of city transformation and evangelism. Since Nations2Nations was a new concept for many we had no idea how many would come. When the lights were dimmed for the start of the program  300 people were present with most of the church leaders in attendance. This was one of the first sizable events initiated by YWAM Burtigny in more than 10 years and one of the well known Pastors in the region exclaimed with several others that the spirit of YWAM with it's international flavor, heart for evangelism and youth is back.
Through the 2 evening celebrations, Stewardship seminar, and the other gatherings, more than a thousand people were impacted during this Nations2Nations week in a region that is in such need for Him.